What Employers Say About Enhanced Reporting
"It's easier — and it helps to break down overtime and other things that can make payroll complicated."
Penny Rich | Deputy Clerk, Village of Cayuga Heights
"We're a small office, so I wear a lot of hats — and this saves me time."
Maureen Lewesey | Village Clerk/Treasurer, Village of Victory
"It's easier with Retirement Online. Everything's all right there."
Wendy Driscoll | District Treasurer, North Greenbush Common School District
"The training was amazing — helpful, positive, and encouraging. It was the best transition I've ever been through."
Laura Bestehorn | District Clerk/Treasurer, Genesee County Soil & Water Conservation District
"The data we collect with enhanced reporting will make things easier moving into the future."
Michelle Karpinski | Deputy Treasurer, Village of Arcade
See our COVID-19 Guidance for Employers page for important information about how the COVID-19 emergency may affect your monthly reporting.

To protect the health of our members and employees, Retirement System consultation offices are closed until further notice. To schedule a phone consultation, and for all other inquiries, your employees can contact us at 1-866-805-0990; 518-474-7736 in the Albany, NY area. However, we strongly encourage members to use Retirement Online to do business with NYSLRS at this time.
Billing Information Available in
Retirement Online
From your Retirement Online Account Homepage, click the "Access Billing Dashboard" button to see your annual invoice due February 1, 2022 (and the discounted amount if paid by December 15, 2021), the projection of your invoice due February 1, 2023, your GASB report and your reported Fiscal Year Earnings for year ending March 31, 2021. Only Billing security role holders have Dashboard access. You'll find training materials to help you use the Billing Dashboard on the Retirement Online How To page.
Make the Switch to Enhanced Reporting
More than 600 NYSLRS employers are now using Retirement Online enhanced reporting. Visit the Enhanced Reporting — Gold Certification page to find out how you can join them and take advantage of a better way of reporting.

Hot Topics:

Post Retirement Reporting for Enhanced Reporters. Read More…

Managing Reports on the Employer Reporting Dashboard. Read More…

Reporting days and earnings for new optional members. Read More…

How to search for notifications. Read More…

Employer credits. Read More…

How to handle deficiencies. Read More…

Learn how to view and prevent improper withholdings. Read More…
Hot Topics

Post Retirement Reporting for Enhanced Reporters — For employers using enhanced reporting, retirees that are returning to work are to be reported. The information for these employees must be reported using a new employment instance number (EMPL record). This is required in order to separate post-retirement earnings from membership-related earnings information.
If you attempt to use their old EMPL record, you'll receive an error message in Retirement Online.
To report a retiree returning to work, you will need to use the Enrollment Dashboard or ERET tool to create a new EMPL record for the retiree.
Where to find the employees new EMPL record number:
Enrollment Dashboard Confirmation page or New Hire Summary page
On the member's contribution rates page
Within the manual report
It's important to remember, you will not be able to create an EMPL record or report on a retiree returning to work until that employee's retirement case has been closed by NYSLRS. This restriction also applies if they have a pending withdrawal, tier reinstatement, transfer, or membership date case that has not closed.
For more information about post-retirement reporting, see our Post-Retirement Reporting — Overview page.
---

Managing Reports on the Employer Reporting Dashboard — Anytime the "Create Manual Report" button in Retirement Online is clicked, a new report or adjustment report will be created with the "Initiated" status. When a report containing member data is in Initiated status, the data contained in the report will only be posted to member accounts when it is brought to "Posted" status. Please visit the Reporting Dashboard to check for reports with the Initiated status that you need to submit.
Sometimes, manual reports may be created unintentionally, and you will see them listed among the reports you will be submitting. To help avoid confusion and improve your experience using Retirement Online, always delete reports that you do not intend to submit.
See our Initiated Report Instructions

for information that will help you manage your reports in Retirement Online.
For additional help, please see the How to Report Manually section on our How To page.
---

Reporting days and earnings for new optional members — You must report all days and earnings for an optional member in the month the member joins NYSLRS. This includes days and earnings for both before and after the date of membership.
Many optional members may not have a date of membership that matches their hire date.
In the past, you only reported the days and earnings after the date of membership for an optional member's first month. Going forward, days and earnings for both before and after the date of membership must be reported. This change will help all employers transition to enhanced reporting and result in more accurate records of service credit.
Retirement Online will automatically split the days, earnings, and contributions based on what is reported by the employer.
If you'd like to know more about how NYSLRS calculates the proper days, contributions, and earnings of optional members in that first month, please see this quick guide

.
---

How to search for notifications — Based on your feedback, we've upgraded Retirement Online to improve the way you can search through the notifications you receive.
Watch this video for a brief introduction to searching notifications. Also, see this guide

to learn how to access and search notifications in Retirement Online using the Notification Search link. You'll see how to view active (current) or past notifications, how to sort the notifications chronologically, to view them by due date or date completed, to easily mark notifications as complete, and more.
As always, you will only be able to view the notifications associated to your security role(s), but the improved search function will make managing notifications easier and more convenient.
---

Employer credits — Some employers who submit payments to NYSLRS using Automated Clearing House (ACH) have found that the amount debited from their account does not match what they calculated as being withheld from their employee's paychecks.
There are two reasons this could occur:
When your report was submitted for posting, NYSLRS did not accept a contribution, loan or service credit payment on behalf of a member because it was not owed; this is considered an "improper withholding". To learn more, view the improper withholdings quick guide ; it will show you how to view any deductions that were identified as improperly withheld, as well as understand how to prevent them in the future.
When an employer submits an adjustment to remove incorrectly reported wages from a member's reported data and requests a refund of the associated contributions, NYSLRS will create a credit to your employer reporting account. This is a change from our past practice of mailing you a refund check and letter with details so you could return the money to the member. The payroll contact at your organization will receive a letter with the member's information along with the amount of the contributions you must refund to them. The credit will be applied to the first report you submit 15 days after the refund is processed.
Please note that the amount debited from your account is equal to the amount owed (which is the value displayed on the report summary page) minus any credits.
If you have questions about your monthly report or the amount that was debited from your account, please contact our Employer Reporting unit by calling 866-805-0990. Have your location code ready when you call.
---

How to handle deficiencies — Deficiencies are created as a result of under-contributing on a previous monthly report. In general, if you see a warning regarding too few contributions for a member on a monthly report, you should expect a future deficiency. You will be notified of the deficiency amount through a deficiency notification. You should report the deficiency to NYSLRS as a one-time payment service credit purchase on your employer report as soon as possible to minimize any interest owed. Always wait for the deficiency notification prior to sending the money to NYSLRS to prevent the funds being labeled as improper withholdings.
If you receive a deficiency notification about a particular member that member will be notified of the deficiency in a letter from NYSLRS.
Sometimes, members work for more than one NYSLRS employer. If you are a member's primary employer, and the member's other employer has under-withheld, you will receive a notification to take a one-time SCP/deficiency payment. The member's other employer will receive a warning and is responsible to begin taking the contributions at the correct rate.
---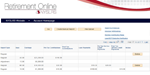 Learn how to view and prevent improper withholdings — If you deduct too much in retirement contributions, or overpay the member's loan or service credit purchase account, you will receive a warning when submitting your file. This is known as an improper withholding. NYSLRS can only accept money that's owed, so any deductions that were not accepted by NYSLRS will need to be returned to your employee.
You'll know if there's an improper withholding because you'll receive a warning when posting your report. Since these are payroll deductions, refunds of improper amounts must be issued by the employer, not by NYSLRS. Local employers are responsible for refunding the money themselves. For State employers, the money is refunded through State payroll.
To view the details of any improper withholdings, click the Access Reporting Dashboard button on your Account Homepage, and click the Improper Withholdings link found near the top right of the page. This page is accessible to the Employer Reporting (uploader and submitter) and Payroll security holders.
Read our quick guide

to learn more about viewing improper withholdings.